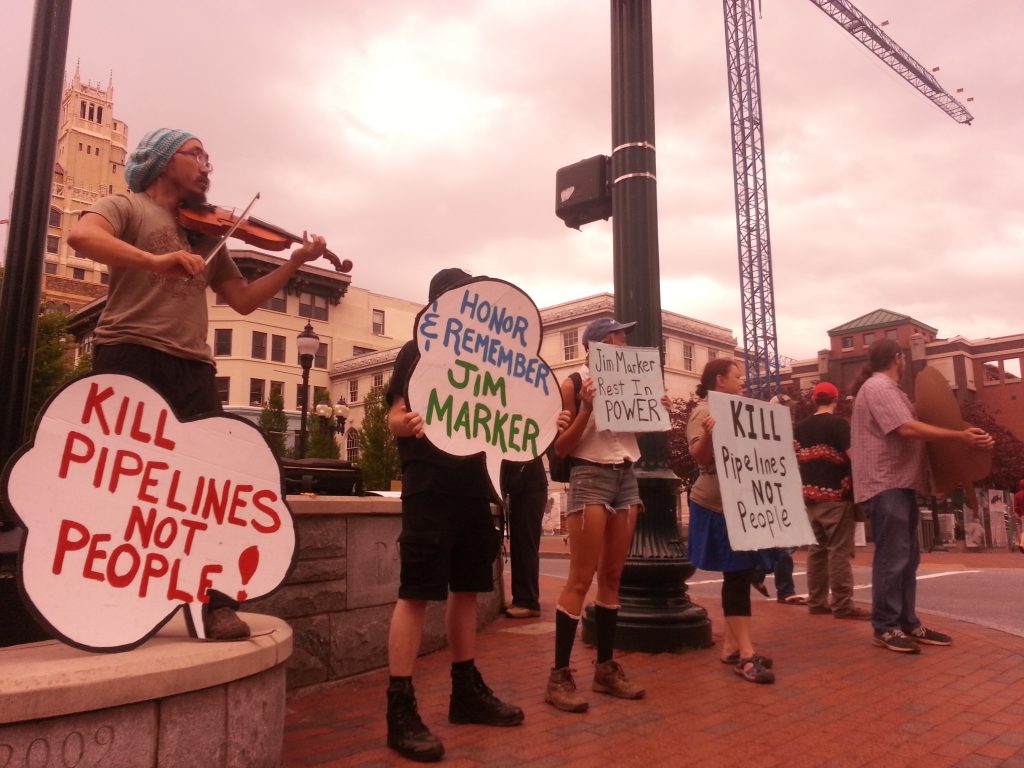 Smoky Mountain Eco-Defense and fellow pipeline fighters celebrated Memorial Day in Asheville, NC by honoring a veteran who died fighting for the land he loved. Jim Marker, a veteran, father, water protector and humanitarian was killed by police in Florida this February after he was caught successfully decommissioning several pieces of construction equipment for the Sabal Trail Pipeline. After chasing Marker from the scene it is reported that police rammed his car and then shot him as he exited unarmed. Police initially claimed he fired shots at them but have since retracted this lie, and now refuse to release their video footage of the incident.
Folks gathered in the heart of downtown with signs reading "Kill Pipelines, Not People", "Jim Marker is a Hero" and "Jim Marker Died for Duke Energy's Sins" and handed out flyers to the tourist filled streets of Asheville. Duke Energy is a major backer of the Sabal Trail Pipeline as well as the Atlantic Coast Pipeline which SMED has been involved in fighting. The Atlantic Coast Pipeline would bring fracked gas from West Virginia down into the Carolinas to feed Duke Energy's new generation of gas power plants.
The killing of Jim Marker by police is unfortunately just one tragic episode in an escalating wave of violence against people fighting to protect the land, water, air and human rights.
You can contact the the Florida State Police at: 1-800-500-1240 and demand they release the footage of Jim Markers death.